Gevrey-Chambertin and Nuits-Saint-Georges are two of the most famous and well-regarded communes in Burgundy for Pinot Noir. As part of the Cote de Nuits wine region in the Northern part of the Cote d'Or, limestone and clay soils create the perfect environment for complex Pinot Noir. Of course, Burgundy is known for its varied and coveted terroir within each sub-region's individual vineyards, so full-bodied Gevrey-Chambertin wines are often designated Grand Cru, while many wines from Nuits-Saint-Georges receive Premier Cru distinction. During this class, James Beard award-winning author and resident Pinot Noir expert, Jordan Mackay, took us through a flight of beautiful red Burgundy from these two regions.
The first four wines came from Nuits-Saint-Georges; three of these were Premier Cru. I particularly enjoyed the 1995 Robert Chevillon, with its floral but rustic perfumed nose that smelled like autumn in a glass. Super smooth on the palate, the velvety body was balanced by a nice acid profile. The 2001 Dominique Laurent smelled like pickles at first, which I didn't mind, but as it opened up I enjoyed the violets and roses on the nose and the lingering finish.
The next four wines from Gevrey-Chambertin were a bit more complex and earthy. My favorite, the 1998 Domaine des Chezeaux Grand Cru, had a funky, earthy nose with spice, fruit and flower on the elegant palate; this wine had great texture.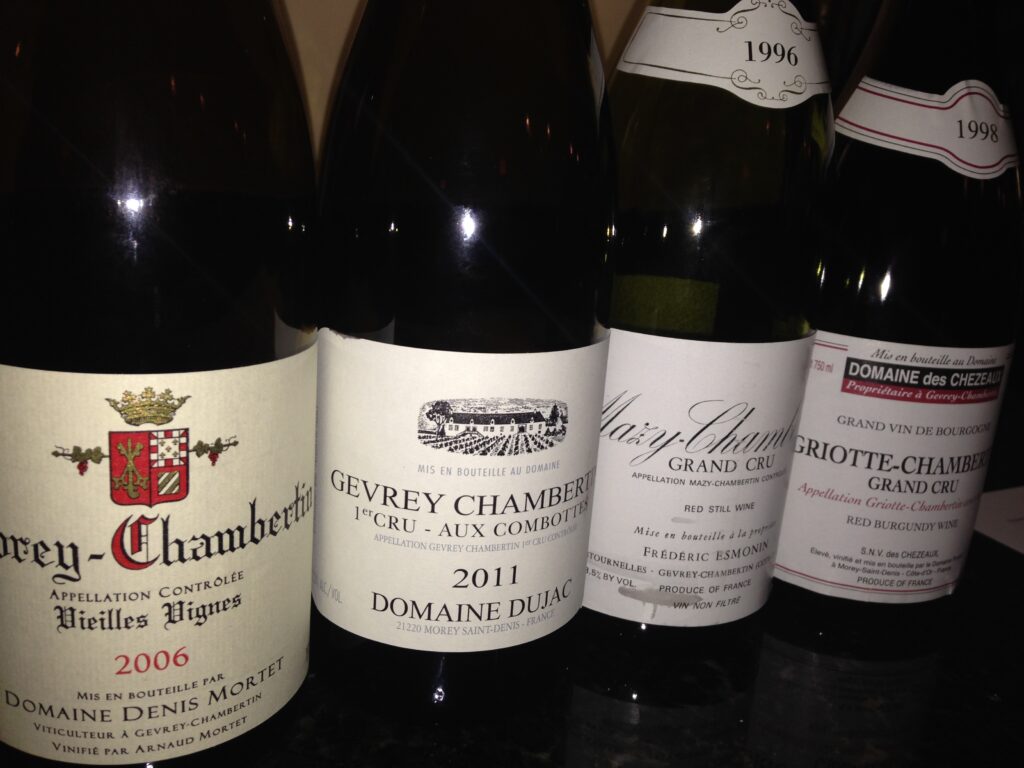 Many of the wines kept changing in the glasses as we tasted them, reminding us that wine is a living thing that constantly evolves in its various environments.
Jordan had some suggestions for wine touring in Burgundy, which is a great way to learn about the terroir. From CDG in Paris it's about a 3-hour train ride into Beaune, the town he recommended staying in; from there you can drive around the region or bike around the vineyards. That is a trip I would love to make.
Wine List:
Emmanuel Rouget Nuits-St-Georges 2009 – $110
Robert Chevillon Nuits-St-Georges Les Pruliers 1er Cru 1995 – $225
Perrot-Minot Nuits-St-Georges "La Richemone" ULTRA VV 1er Cru 2007 – $220
Dominique Laurent Nuits-St-Georges Les Vaucrains 1er Cru 2001 – $65
Denis Mortet Gevrey-Chambertin Vieilles Vignes 2006 – $100
Dujac Gevrey-Chambertin Aux Combottes 1er Cru 2011 – $175
Frederic Esmonin Mazy Chambertin Grand Cru 1996 – $200
Domaine des Chezeaux Griottes-Chambertin Grand Cru 1998 – $200
As we approach the holidays, all this Pinot Noir that we've been enjoying in the last couple wine classes has primed our palates for turkey and all the fixings. If you need some wines for your holidays, let us know. Happy Thanksgiving from San Francisco Wine Center!
-Melanie Solomon