Ahh, Champagne. Around the holidays Americans always drink more bubbly – it's a festive time of year, and people view Champagne (or any sparkling wine) as a celebratory drink. Personally, my favorite kind of wine is the kind that bubbles, and I find any excuse I can to drink it. Mauro Cirilli, instructor for our Holiday Champagne Master Class at San Francisco Wine Center, said he needs to have a glass of Champagne every day, and he suggests we do too. Well, you don't need to tell me twice.
Why is Champagne so special? It's the magical second fermentation in the bottle that produces the bubbles, but it's also the harsh growing conditions in the region of Champagne, France, that contributes to the high acidity of these wines. Champagne only averages about 1650 hours of sunlight per year, versus over 2000 for Bordeaux. This results in very acidic and unripe grapes. Through the Champagne method of winemaking, that acidity combined with extended aging on the yeast cells and just the right amount of added sugar result in complex, bright, toasty, creamy flavors that delicately dance on the tongue.
Tonight's line up featured non-vintage (blends from different years to produce a consistent style) and vintage (from a single year) wines from grower houses and well-known luxury brands. Champagne can range in price from $40 to $400, and we tried a full range. Unfortunately, 2 bottles of Dom Perignon were faulty so I can't say my first Dom experience was life changing. But among the rest there was beauty all around and I had a hard time choosing a favorite.
Champagne List:
Doyard Cuvée Vendémiaire Brut NV ($40)
Vilmart Cuvée Grand Cellier NV ($75)
Larmandier-Bernier Vieilles Vignes de Cramant Grand Cru Extra Brut 2007 ($75)
Gaston Chiquet Brut Cart d'Or 2002 ($70)
Salon Brut Blanc de Blancs Le Mesnil 1999 ($275)
Pol Roger Cuvée Winston Churchhill 1999 ($195)
Dom Perignon 1999 ($165)
Billecart-Salmon Brut Rosé NV ($70)
For comparison, we also tried sparkling wines from Spain and California. These were very elegant and enjoyable, and for $20-30 you could easily justify opening one of these any night of the week and any month of the year.
Not Champagne:
Raventos i Blanc de Nit Rosé 2011 ($22)
Schramsberg Blanc de Blancs 2006 ($30)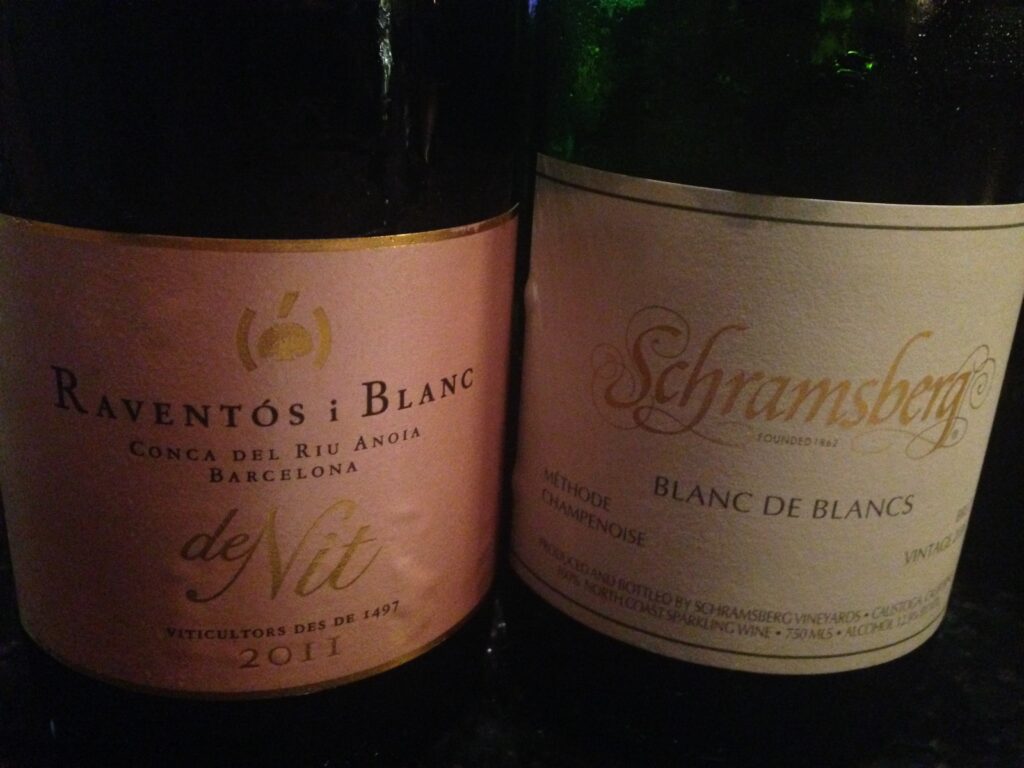 Happy Holidays from San Francisco Wine Center! If you need some bubbly for your holidays please let us know.
– Melanie Solomon