Italy is one of the most varied wine countries in the world, particularly because they have so many indigenous varietals – over 6000! There are no generalizations to be made, especially in a country whose climates and soil are so varied from one section to another. Italian wine labeling doesn't necessarily makes thing any clearer, since sometimes the name of the grape is used and sometimes it isn't. Personally, I'm always trying to learn more about Italian wines, since there are so many different wines to try and some can be very good values. Mauro Cirilli, native of Venice, former Wine Director of Perbacco and Barbacco, current Wine Director at Press Club and Director of the North American Chapter of the Italian Sommelier Association, helped us break it down in Wine School. We started with Prosecco, the refreshing bubbly wine of the Veneto region in northern Italy. Formerly named for both the grape and the region, things got confusing when Prosecco achieved DOCG status, the highest quality designation for Italian wine, so they since went back to using the name Glera for the grape. Prosecco is not "Italian Champagne" – it's a completely different style of bubbly wine that is meant to be light, fruity and refreshing.
In the Mt Etna wine region of Sicily, vineyards grown on volcanic soil surround the tallest active volcano in Europe and one of the most active in the world. Mt Etna white wines are made from the grapes Carricante and Catarratto; the version we tried was dry, austere and a little bit funky.
Vermentino, a white wine usually varietally labeled, is an expressive grape that grows in Liguria, Tuscany and Sardinia; we tried a Sardinian version grown on minerally soil, with a rich creamy palate of chamomile. Cannonau is a red Sardinian varietal that we sampled, which is their local name for Grenache or Garnacha. I love Sardinian Cannonau for its earthy and funky qualities; this one didn't disappoint me with its barnyard, herbs, mushrooms and long finish.
Back in the Veneto, Valpolicella is a red wine typically made from 3 grapes – Corvina, Rondinella and Molinara – each contributing important characteristics to the wine including color, tannin, spice and body. The one we tried was earthy and spicy with dried fruit character. Refosco, a wine made from grapes with red stems, also comes from the north, in Fruili-Venezia. This wine had bright fruit and flowers with a good texture.
Finally, on the sweeter side of things, we sampled Lambrusco, the slightly "frizzante" red wine from Emilia-Romagna, and Moscato, the floral dessert wine from Piedmont.
A wide variety of wines, quite representative of Italy – thanks for a great education, Mauro!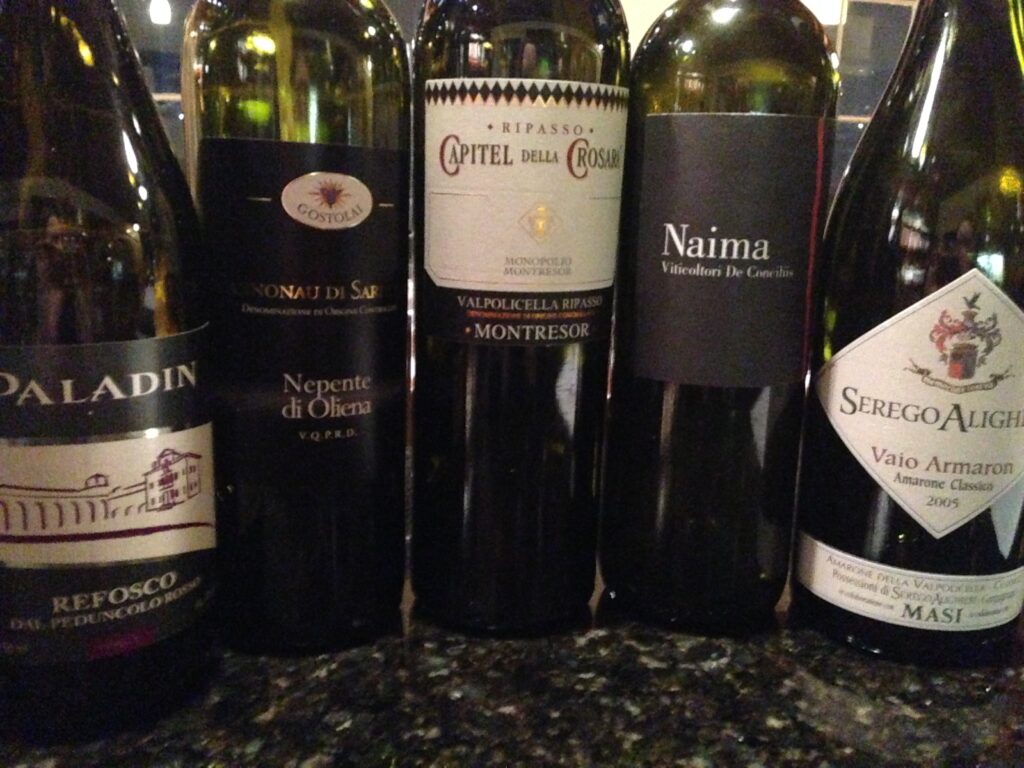 Wine List:
2011 Valdobbiadene Prosecco Superiore, Cuvée del Fondatore, Rive di Col San Martino, Merotto
2013 Etna Bianco, Murgo
2012 Capichera Vermentino di Gallura
2012 Paladin Refosco dal Peduncolo Rosso
2010 Cannonau di Sardegna, Neopente di Oliena, Gostolai
2010 Valpolicella Ripasso Capitel dellla Crosara Montresor
2004 DeConcilis Naima Aglianico 2004
2005 Masi Serego Alighieri Vaio Armaron Amarone Classico
2010 Medici Ermete Le Tenute Bocciolo Lambrusco Dolce Grasparossa
2010 Moncalvina Moscato
– Melanie Solomon