As the line between new world and old world wines continues to blur, we found ourselves stumped this evening as we blind-tasted through 6 comparisons of typical varietals made by old world and new world producers. With each pair, the class was literally split every time on which was which. As Mary explained, when we talk about old world, we mean Europe, while new world encompasses everywhere else. Old world wines are generally more earthy and savory, with marked acidity and minerality and less alcohol. New world wines are typically more fruit-forward, less acidic, and higher in alcohol. Did these generalizations hold up in this group?
In the first pair, wine #1 was fruity and dry, with grassy notes, citrus peel, and marked acidity. Many guessed it was a New Zealand Sauvignon Blanc – but it was a white Bordeaux. Wine #2 was creamier, with sweet vanilla oak, lemon merengue, and peach; more complex, silky but still crisp. Were we in Pouilly-Fumé, France? Actually, Washington State. I didn't even know anyone was making Sauvignon Blanc in Washington – this was actually majority Semillon (61%) with 20% Sauvignon Blanc – but I expect I will be re-visiting this producer, Buty.
In the next pair, many immediately thought #3 was a German Riesling due to its pungent petrol character. I got beyond that and began to think we were in Australia, since theirs take on that character as well but tend to be very lime-y and dry, which was how I would characterize this wine. Wine #4 was more floral and peachy, like many Rieslings I've had from Finger Lakes producer Hermann J. Wiemer that highly mimic a German Mosel style when young. The big reveal – #3 was from Oregon and #4 was Austrian!
The next two sets were a bit more obvious to me – Chardonnay and Pinot Noir. New World chardonnay tends to have more pronounced oak, and I almost always prefer a more refined French style. With Pinot Noir, new world versions tend to be very fruity, whereas French versions are more funky and earthy, which I also prefer. Both sets were more typical expressions of new world and old world, though not obvious to everyone.
The second set of reds was a fun one – meaty, savory and spicy with firm tannin against brambly, sweet spice and soft tannin. We had ourselves a Crozes-Hermitage Syrah against a Barossa Valley Shiraz. We learned that the Barossa Valley does not cool off at night, so the grape skins don't thicken, contributing to softer tannins in the wine. This was a great pair that solidified my favorite for the night in the Crozes-Hermitage, since I love this style and producer and the price cannot be beat, especially for a wine that will continue to improve with cellar time.
The last set was another tough one, mostly because both these wines were very tight and could use some more aging and air. The first had a eucalyptus nose with black fruit and violets on the nose. The second was a bit more closed on the nose but we could discern some vanilla. With a few bites of cheese, things started to become clearer – these were Cabernet-dominated wines, Bordeaux from Graves against Napa Valley's Opus One.
A wonderful selection of wines with some curveballs…
Chateau Lamothe de Haux White Bordeaux 2011 ($15)
Buty Semillon-Sauvignon Blanc-Muscadelle 2010 – Columbia Valley, WA ($25)
Chehalem Willamette Valley Dry Riesling Reserve 2007 – Oregon ($20)
Hogl Wachau Riesling Smaragd Bruck 2007 – Wachau, Austria ($30)
Domaines Leflaive Macon Verze 2012 – Burgundy, France ($39)
Wente Riva Ranch Estate Chardonnay 2012 – Arroyo Seco, Monterey, CA ($18)
Flowers Van der Kamp Vineyard Pinot Noir 2000 – Sonoma Mountain ($60)
Domaine Trappet Chambertin Grand Cru 2000 – Cote de Nuits, Burgundy, France ($200)
Alain Graillot Crozes Hermitage 2012 – Northern Rhone Valley, France ($30)
Two Hands Gnarly Dudes Shiraz 2011 – Barossa Valley, Southern Australia ($28)
Chateau Smith-Haut Lafite 2006 – Graves, Left Bank, Bordeaux, France ($90)
Opus One 2006 – Napa Valley, CA ($290)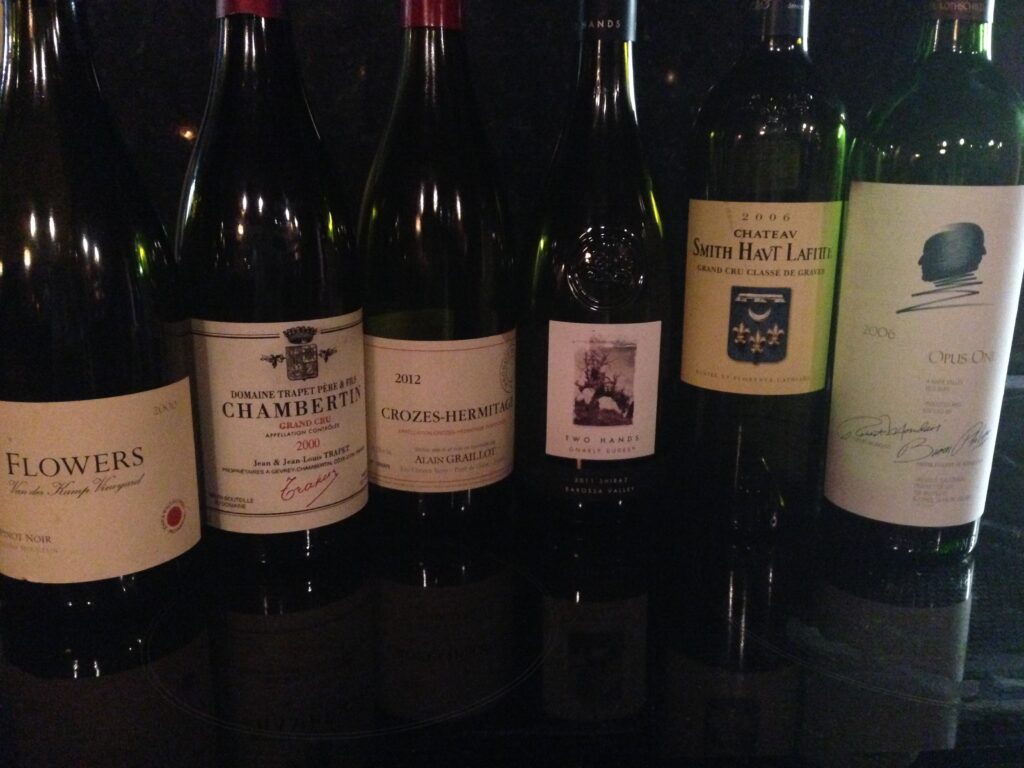 -Melanie Solomon