The world of Pinot Noir stretches way beyond Burgundy – though each new world version is compared to the French mother lode. Known the world over as a finicky grape, Pinot Noir is difficult to maintain since it ripens so early and is prone to rot due to its thin skin. Genetically unstable, many different clones exist and can have marked differences. In this wine class, Gillian Ballance, Master Sommelier and former wine director of Plumpjack Hotel & Restaurant Group, describes Pinot Noir as "charming – exhibiting grace as well as power." She took us through a varied flight of Pinot Noir from places like Australia, New Zealand and South Africa, in addition to Burgundy, Oregon and California.
We started the evening off right with a well-aged Pinot from Central Coast: Calera Mt Harlan Jensen Vineyard 1999, grown on one of the few limestone vineyards in California, which was planted in 1974. It was very much alive, with balsamic, stewed fruit and good tannin.
Further north in Willamette Valley, Oregon, J.K. Carriere held tonight's crowd favorite with the 2005 Shea Vineyard – a little funky on the nose but very Burgundian, with nice spice and good acidity.
Over on the other side of the world, South African Pinot showed its funky side with some rubber, pine and earthiness that was quite interesting and unique.
Finally, we went down under to Australia's Yarra Yarra valley, in the Victoria district, a cooler area on the southern coast of the country. This wine was beautiful with pomegranate, cranberry and great acidity. It brought me back to a trip I took to this area in 2009, when I sampled my first Aussie Pinot and took a $25 bottle back home with me, halfway around the world to New York, where I lived at the time. This 2004 is a steal at $20! Then, from neighboring New Zealand, a Marlborough version also showed really well, with pretty fruit, leather, good acidity and a long finish. While I'm partial to Burgundy, I found these two wines to be the most exciting of the night (and the most affordable).
But speaking of which, the Burgundy of the evening, a 2008 Premier Cru from Cote de Nuits, showed refined fruit, floral and herbal qualities with elegant structure and a long finish. I can't help it – this was my favorite.
Most of these wines are available for purchase at the San Francisco Wine Center – contact us if you are interested!
Wine List:
1. Calera Mt Harlan Jensen Vineyard Pinot Noir 1999 – Central Coast ($140)
2. Labyrinth Yarra Valley Viggers Vineyard Pinot Noir 2004 – Australia ($20)
3. JK Carriere Shea Vineyard 2005 – Willamette Valley, Oregon ($60)
4. Patrice Rion Chambolle-Musigny Les Charmes 1er Cru 2008– Cote de Nuits, Burg, FR ($99)
5. Cobb Joy Road Vineyard Sonoma Coast Pinot Noir 2009 – Sonoma ($65)
6. Seresin Marlborough Pinot Noir "Leah" 2009 – New Zealand ($40)
7. Copain Anderson Valley Monument Tree Vineyard" Pinot Noir 2012 – Mendocino ($70)
8. En Route Russian River Valley Pinot Noir Les Pommiers 2010 – Sonoma ($65)
9. Paul Hobbs Hyde Vineyards 2012 – Napa, Carneros ($69)
10. Hamilton Russell Hemel-en-Aarde Valley Pinot Noir 2012 – South Africa ($39)
Bonus Wines!
Alois Lageder Tenutae Lageder "Krafuss" Pinot Noir 2007 – Trentino-Alto Adige, Italy ($45)
Foxtrot Okanagan Valley Pinot Noir 2009 – British Columbia, CAN ($56)
Domaine Michel Gros Chambolle-Musigny 2012 – Cote du Nuits, Burgundy, FR($72)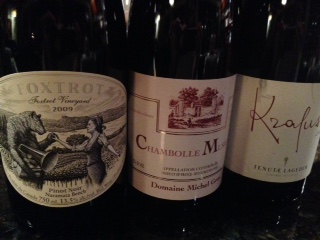 – Melanie Solomon