Last week in wine school we were educated about the subtle but significant differences between the 3 Big B's of Italy: Barolo, Brunello & Barbaresco.  Mauro Cirilli, Italy's top Sommelier, returned to SFWC for another round of his Italian wine series.  These 3 wines (named for their regions) are known for their longevity, structure, acidity and food friendliness.
Barolo and Barbaresco wines are both made 100% with the Nebbiolo grape. These northern Italian regions of Piedmont have a cooler climate, and the food of the region tends to be rich, so Nebbiolo pairs well with the cuisine. Minimum aging requirements for Barbaresco include 26 months in oak for regular wines and 50 months for Riserva wines. In Barolo, minimum aging for regular wines if 38 months and 62 months for Riserva. These two regions are a bit like Burgundy in that all wines are single vineyard designated. Despite their proximity, these two regions vary in climate and style due to Barbaresco's closeness to the Tanaro River, which provides a maritime influence that helps Nebbiolo ripen a bit earlier than in Barolo. This results in earlier fermentation and less maceration, so the tannins in a young Barbaresco are not as tough as in Barolo, hence the reduced aging requirement. Barbaresco is more approachable than Barolo earlier, but it won't age as long. Barolo is one of the greatest wines of Italy, with its trademark calcareous soils and vineyard slopes contributing to the complex aromas of tar and roses and extremely long cellar life.
Brunello – short for Brunello di Montalcino – is in the region of Tuscany, known for olive oil and lighter foods, and the 100% Sangiovese wines complement this cuisine perfectly. Montalcino has one of the warmest and driest climates in Tuscany, and this particular clone of Sangiovese is unique to the region – it ripens more fully and consistently here than anywhere else in Tuscany, contributing to the body, color, extract and tannins commonly associated with Brunello di Montalcino. Sangio in Italian means blood, but in contrast to the Sangiovese in Chianti, Brunello is described as "fleshier." Minimum aging for these wines is 48 months or 60 for Riserva.
Traditional wineries use large oak vats while modern wineries may used smaller French barriques. All 3 of these wines are lightly pigmented and tend to have a garnet color, with high tannin, high acidity, and medium to full body.
We tasted Barbaresco first, enjoying the licorice, spice, dried fruit flavors. My favorite was the 1990 Ceretto, from Bricco Asili. It took a while to open up but once it did I loved the roses and that smooth finish.
Barbaresco:
2007 Produttori del Barbaresco, Riserva, Montestefano (in Barbaresco)
2007 Gaja (in Barbaresco)
1999 Scarpa, Tettineive (in Neive)
1990 Ceretto, Bricco Asili (in Barbaresco)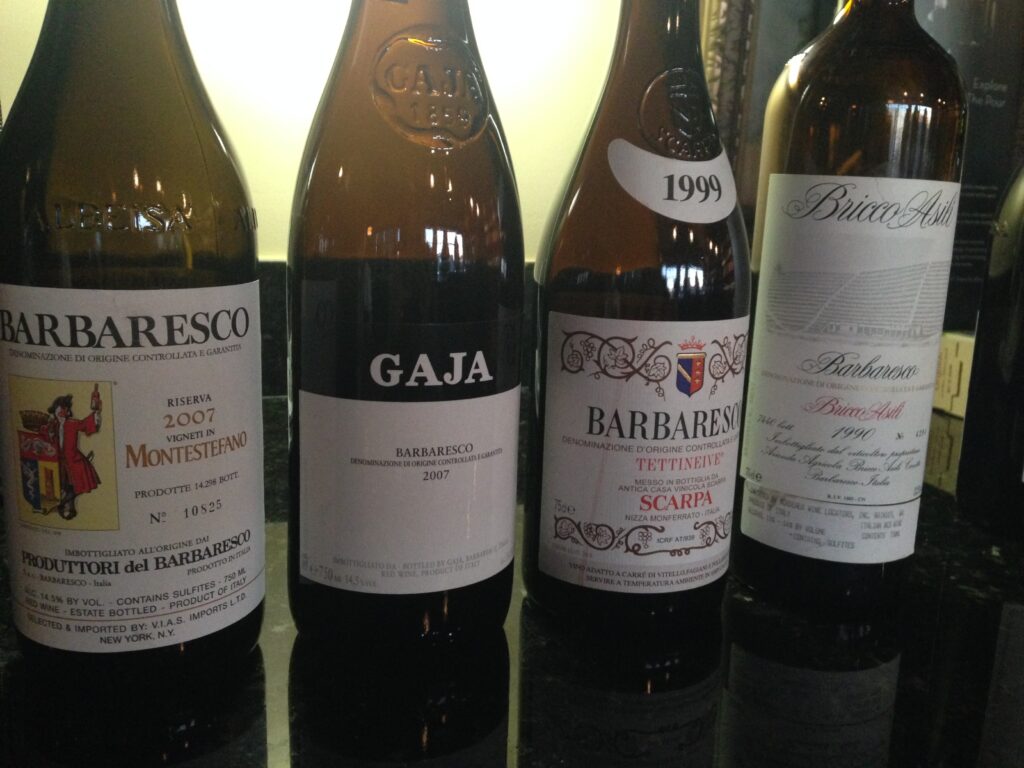 Next, the Barolos. Meaty, savory, rich with sweet spices, violets and roses, rhubarb, licorice and fennel. The 2001 even had an interesting combination of mint crème and butter toffee along with tar and dried flowers. It was tough to pick a favorite in this group but all of them could definitely age much longer.
Barolo:
2010 Andrea Oberto, Rocche (in La Morra)
2006 Boroli, Villero (in Castiglione Falletto)
2001 Giuseppe Mascarello, Monprivato (in Castiglione Falletto)
The Brunellos were more approachable, with juicy ripe fruit and savory herbs and earth. My favorite was the 2004 Casanova di Neri, which also showed dark violet, prune and sweet licorice in beautiful balance.
Brunello di Montalcino:
2006 Gianni Brunelli
2006 Gaja, Pieve di Santa Restituta
2004 Casanova di Neri, Cerretalto