After a successful "Pinot Days Night" tasting at the San Francisco Wine Center on June 17 and the actual Pinot Days event at the Metreon on June 21, we continued the Pinot Noir theme at SFWC with wines from Mendocino County, including the Anderson Valley. Representatives from Waits-Mast and Alder Springs poured their wines for a group of wine collectors, and we threw in some Copain Wines from Anderson Valley as a bonus.
Alder Springs is located in northern Mendocino County, 12 miles from the Pacific Ocean, on an old ranch property. The hilly landscape reaches 4,000 feet and boasts bright sun, cool nights and low-vigor soils. 140 acres of grapes are planted at elevations ranging from 1,700 to 2,700 feet. Alder Springs makes Pinot Noir, Syrah, and Rhone varietals with a focus on clonal selection, state of the art rootstock and superior trellising. The property is beautiful, and Marsella poured their full range of wines, including Chardonnay, Pinot Noir, Syrah, and a blend of Grenache, Mourvedre and Counois called 'Kinesis' – this was my favorite for its meaty, spicy character that kept changing in the glass.
Waits-Mast Family Cellars is a husband and wife team from San Francisco who make their wine in the city, sourcing their fruit from vineyards in Mendocino County, Anderson Valley, Russian River Valley and Sta. Rita Hills. Focusing only on Pinot Noir, these wines are beautifully spicy and complex, with balance and grace. My favorite was their 2012 Deer Meadows Vineyard Pinot Noir from Anderson Valley, which smelled like a cinnamon bun and continued on the palate with exotic spice and fruit.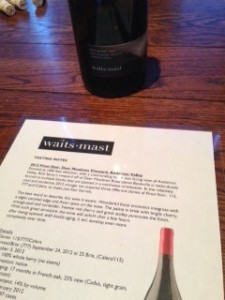 Copain Wines, located in Healdsburg, Russian River Valley, sources fruit from there as well as Anderson Valley and Mendocino County for their Pinot Noir, Syrah and Chardonnay. We poured their "Tous Ensemble" Anderson Valley Chardonnay alongside 3 Pinot Noirs from Anderson Valley. "Les Voisons," or "the neighbors," is a Pinot Noir blended from a cluster of neighboring Pinot Noir vineyards in the Deep End of Anderson Valley. This was the crowd favorite, with its smooth spice and fruit.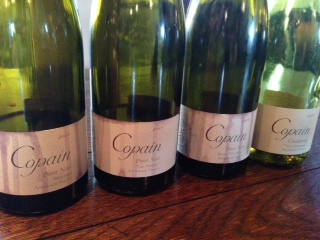 Funny enough, Waits-Mast and Copain both had a Wentzel Vineyard Anderson Valley Pinot Noir, so the comparison was interesting: Waits-Mast was more fruit forward leading to spice, while Copain had a clove spice nose that was integrated with the fruit throughout.
Thanks to Marsella, Jennifer and Brian for sharing your wines on this pleasant evening!
Wine List:
Alder Springs
2009 Chardonnay
2010 Chardonnay
2012 Pinot Noir
2012 Kinesis
2009 Syrah
2012 Syrah
Copain
2012 Chardonnay "Tous Ensemble" Anderson Valley
2010 Pinot Noir Kiser "En-Haut" Anderson Valley
2011 Pinot Noir "Les Voisins" Anderson Valley
2011 Pinot Noir Wentzel Anderson Valley
Waits-Mast
2012 Pinot Noir, Deer Meadows Vineyard, Anderson Valley
2011 Pinot Noir, Wentzel Vineyard, Anderson Valley
2010 Pinot Noir, Londer Vineyard, Anderson Valley
-Melanie Solomon